DO YOU LOVE

imperial drag?

THEN JOIN THE OFFICIAL
IMPERIAL DRAG FAN CLUB
NOW, AND BECOME A MAGICAL,
MYSTICAL IMPERIAL DRAG star*child!!

Climb aboard and show your support for
the grooviest band in the galaxy!! It's sure
to be a fun trip for all as you proclaim to
this world and others "I'M A STAR CHILD!".
Once you sign up for the mission, here is
what you will receive:

imperial drag starchild interplanetary gear includes:
1 year subscription to "STARDUST", the oficial imperial drag fan club
newsletter that keeps you up to date with the band and includes full-color
photos of the band, drag articles, tour dates, stellar contests, and much
more!!
1 official imperial drag fan club-only t-shirt
bio of the band
pictures of the band
stickers, buttons, and magnets (for your own spaceship)
as well as other treats beamed down to you throughout the year!!!!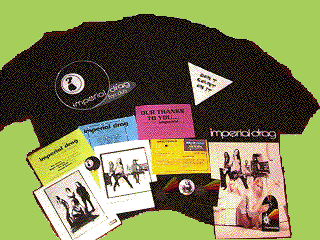 (Sample Fan Club Packet - your packet may vary)
For one year of membership, please send the enclosed
questionnaire and:
If in the U.S., *check or *money order for $15.00
If not in the U.S., send a $20.00 U.S. *money order only, please
to:

imperial drag fan club
po box XXXXX
Xxxxx, XX XXXXX

*please make checks payable to "XXXX Xxxxxxxxx". and may the drag be with you.